Cabbage Hill Farm would not be able to operate without the hard work and dedication that our farm staff puts forward every day. Meet our team of experts who keep the farm beautiful and running like a well-oiled machine.
Brian
General Manager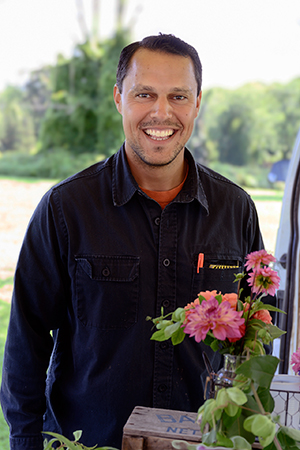 Brian has been with Cabbage Hill Farm for over 10 years. In 2012, Brian started as a college intern at our greenhouse working with the aquaponics system. In 2013, after earning his B.S. in Aquaculture and Fisheries Sciences from the University of Rhode Island, Brian took on the position of Greenhouse Manager. There, he had a wide range of responsibilities including managing sales, fish husbandry, facilities maintenance and repairs, coordinating internships, conducting research and experimental trials and even as the poultry and waterfowl hatcher. In 2019, Brian became the General Manager where he now oversees and directs all operations at Cabbage Hill Farm. In addition to a long list of administrative duties, Brian also maintains the farm and greenhouse facilities/mechanicals, is our aquaculture and lake management specialist, repairs some of the farm equipment, and will seize any opportunity to run the tractor. Having worked his way up from the intern position, Brian has made a conscious effort to understand all aspects of what makes the farm work. He enjoys a methodical and hands-on approach, getting out and lending a hand to the farm staff in the field whenever and wherever possible to better understand the needs of our staff as well as how and why things work and how they can be improved. Brian feels fortunate to have the opportunity to work with and learn from the skilled team at Cabbage Hill Farm.
Ramone
Herdsman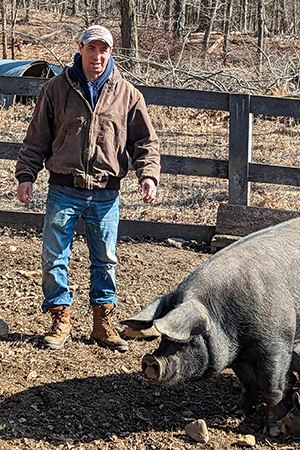 Ramone has been a Cabbage Hill Farm employee for over 13 years. He started as the Assistant Herdsman at Cabbage Hill Farm in 2009 and became the Herdsman in 2016. As Herdsman, Ramone is responsible for the care of all Heritage Breed livestock at Cabbage Hill Farm including our sheep, cattle and pigs– upwards of 140 animals at any given time. His expertise with animal husbandry ensures that all of our livestock are healthy, safe and cared for under a watchful eye from the day they are born. He is highly intuitive with animals and has a remarkable ability to think quick in stressful situations, particularly when aiding in animal births. Ramone is also responsible for maintaining healthy pastures and implementing our rotational grazing program. A man of perpetual motion, Ramone is always on the move and truly one of the hardest working people you will meet. He is also our in-house tree feller, fence repair man, backhoe operator, truck driver and is great with a lasso.
Erick
Landscaper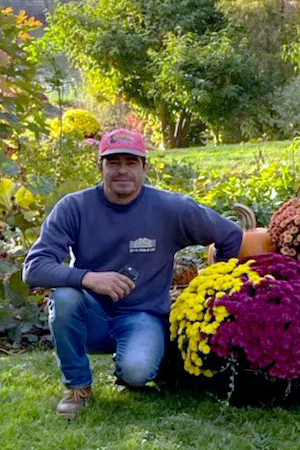 Erick has been an employee at Cabbage Hill Farm for over 10 years as our property landscaper. Erick has more than 20 years of experience in the landscaping industry including 12 years working in property maintenance prior to working at Cabbage Hill Farm. As our landscaper, Erick's job is to maintain the beauty of our property through constant care and attention to detail. He is meticulous with his work and keeps in tune with each and every shrub, flower, ornamental tree and blade of grass on the property including how to care for them throughout the year. His knowledge of successional planting keeps the residential gardens in constant bloom, creating a picturesque landscape from spring to fall. He has a creative eye and can construct a beautiful landscape with minimal resources in no time at all. Erick is a hard worker that takes pride in seeing his projects through from start to finish. In addition to his landscaping work, Erick is a skilled hand with livestock, runs our snow plow, is great with a chainsaw, and an expert with a stand-on mower.
Eileen
Greenhouse Manager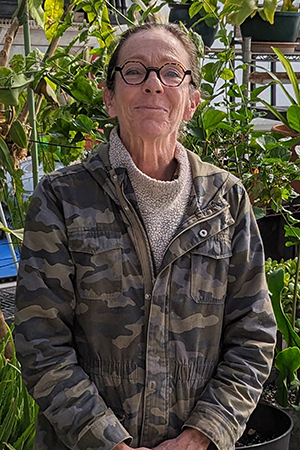 Eileen has been at Cabbage Hill Farm for over 15 years. Eileen earned a Degree in International Business and Finance from Dominican University and a Certification in Gardening from the New York Botanical Gardens. Eileen started as a grower in our greenhouse from 2000-2006, returned in 2012 again as a grower and in 2019 she took on the position of Greenhouse Manager. With over 40 years in the restaurant industry (including 3 years as a restaurant owner) and 25+ years of farming and growing (including 5 years as a farm co-owner) Eileen gained experience with understanding the life cycle of a crop from seed to plate. Eileen uses her keen eye for local market trends to tailor our crop production and incorporate unique heirloom varieties that are in demand. As our in-house florist, she is an expert with cut flower production and floral arrangements – you have probably seen her work at our farm stand at the John Jay Farmers Market. She is a specialist with microgreens, heirloom tomatoes, heirloom lettuce, ornamental plants and has the fastest garden scissors this side of the Hudson River. She also manages our restaurant accounts, crop plans and our summer interns. She brings a positive, go-getter attitude every day and is always up for a challenge.
Anne
Grower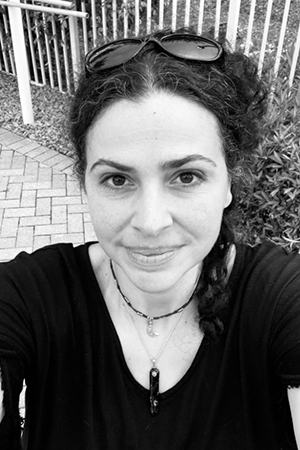 Anne has been at Cabbage Hill Farm for 16 years as a grower at our greenhouse. She received her BA in Visual Arts and Photography from Fordham University in 2000. A lifelong interest in plant biology and desire to connect with nature led Anne to pursue a career working within the field of horticulture. Under Gunther Hauk, she completed a year long training focused in Biodynamics. She continued with coursework in the field of Plant Biology and Horticulture through the New York Botanic Garden before completing a one-year internship program at the Brooklyn Botanic Garden in 2004. Anne then spent three years with the New York Restoration Project as a native plant propagator and head gardener at their flagship park, Swindler's Cove. Anne came to Cabbage Hill Farm in 2007 with an enthusiasm for growing organic vegetables in an indoor and outdoor setting, simultaneously. She brings an important biodynamic point of view to our crop production, focusing on improving the health our soil ecosystem to help remediate nutrient deficiencies and increase the overall productivity of our crops. She uses her expertise in soil health to create our own custom blends of potting soil, hydroponic compost tea, and improve the quality of the compost we produce on site. Anne is an expert with heirloom peppers, garlic, basil, vine crops, native plant species as well as ornamentals. A familiar face to many of our customers, she runs our market stand at the John Jay Farmer's Market as well as our weekly Meat Box pickup. In addition to her greenhouse work, Anne has taken special interest in our wool production and has been a creative eye for helping with the design and marketing of our textiles.
Frank
Farm Hand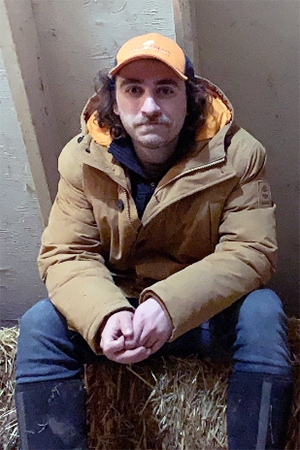 Frank began working for Cabbage Hill Farm in June of 2022. Frank graduated from SUNY Geneseo with a BA in Communications with a concentration in Median and Journalism. Before working for the farm, Frank worked as a freelance sports writer but quickly grew frustrated with the work-from-home lifestyle. Now, he can be found outdoors every day, landscaping, gardening, caring for the animals, and helping out however he can around the farm. Without hesitation, Frank jumped in with both feet and proved himself to be a quick learner, a hard worker, and possibly the most versatile sports writer in NY. When he's not at the farm, Frank continues to work as a freelance writer and enjoys spending time with his friends and family.
Adrian
Greenhouse Farm Hand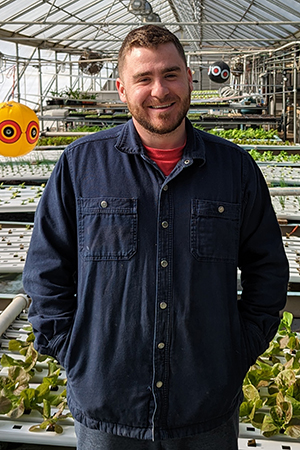 Adrian has been with Cabbage Hill Farm since 2020. Adrian graduated from SUNY Purchase with a BA in Liberal Arts and Sciences. Adrian has helped us off and on through his college years but became a regular face when he really pitched in to help keep things running smoothly at the greenhouse during the height of the pandemic. Willing to lend a hand wherever help is needed, Adrian does just about everything at the greenhouse including seeding, harvesting, packaging, composting beds, assisting with fish husbandry, preparing raised beds for transplanting and setting up for the farmer's market. A little-known fact, when Adrian was in elementary school he helped distribute the Cabbage Hill Farm Thanksgiving turkey orders at the Mt. Kisco train station parking lot from the back of our farm van. A talented musician, creator and entrepreneur at heart, Adrian runs a growing freelance business writing and filming commercials for local businesses.